5 reasons why Cala Montjoi is a TOP experience
Are you looking for a destination for the next vacation? We know that planning a trip takes time. However, there are options that have everything in one place, such as Cala Montjoi. The resort brings together everything you need for a perfect getaway: beautiful landscapes, excellent facilities and the most varied services for all the family.
So, today we want to tell you the five reasons why Cala Montjoi is a TOP experience. One that, without a doubt, you will want to repeat. Are you ready to meet them?
1. Wonderful natural environment

Do you want to enjoy the outdoors? The location Cala Montjoi complex is privileged. It is found no less than in the Cap de Creus Natural Park, just 7 kilometers from Villa de Roses. If you are looking to take advantage of the natural environment and the first days of good weather, here you will have an excellent time. In addition, in this protected environment, you can also enjoy relaxation and fun.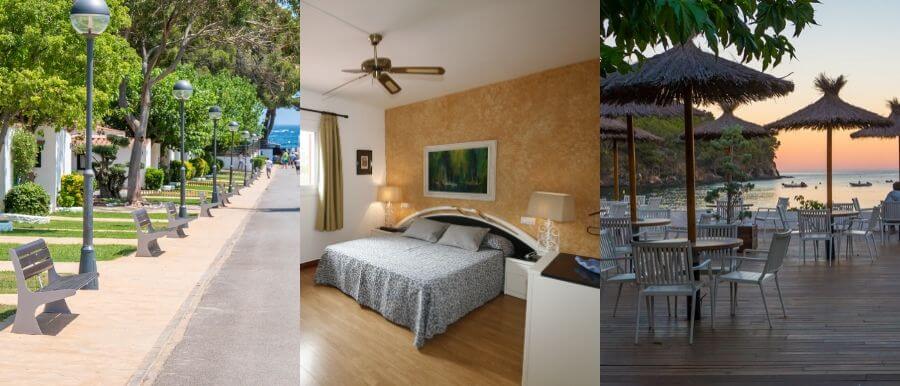 To this is added the declaration of environmental policy, in which Cala Montjoi base all your actions. Especially noteworthy is the ISO14001 environmental certificate. Thus, from the staff to the providers they have their role in protecting the wonderful natural environment that surrounds us.
2. Complete and varied food service
The options gastronomic in Cala Montjoi they are not only perfect for adults and children, but also comply with the maximum food quality and healthy diet standards of the HabitSalut Dietetic-Nutritional Advice Center.
What do you want to eat? You can be sure that in Cala Montjoi you'll find it. There's a free buffet that ranges from Mediterranean-style dishes and fruits to vegetables, fish, and more. If you are tempted by a cold beer or soft drink accompanied by tapas, you can stop by the Chiringuito. The Bar-Cocktail bar and the ice cream parlor are also waiting for you! IF you travel with children or babies you will find a baby bottle with everything essential.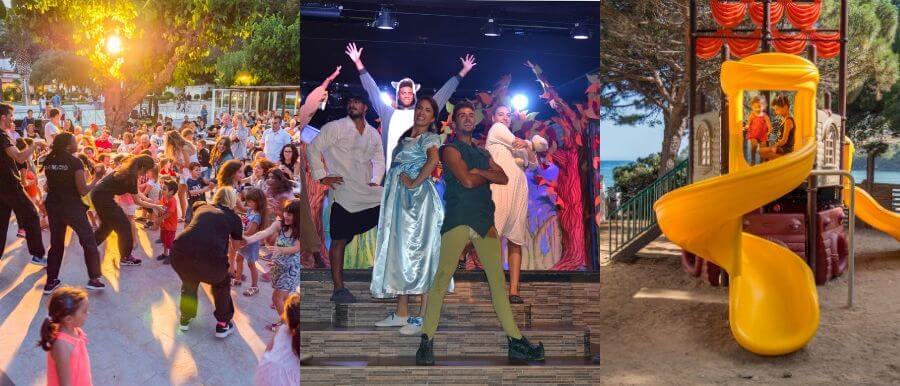 3. Options for the whole family
Are you traveling in family? In Cala Montjoi you have everything for a perfect rest. The resort is presented as a small town where nature surrounds everything. Traditional spaces, short distances, and a warm and welcoming atmosphere are key. In addition, you will find the perfect accommodation, since there are bungalows from 2 to 6 people.
Added to this is a great offer of activities for the whole family! You'll find everything from outdoor shows and age clubs to sports, tours and games.
4. Wide cultural offer
Do you want to do crafts or do you prefer to watch a show? The cultural offer Cala Montjoi is the most complete of the place. You will find shows that are renewed every season, a fascinating animation team and the best entertainment for all ages. Magic, dance, orchestras, recycling, painting and much more! To this is added theater plays They are completely surprising, like The Lion King, Aladdin and Peter Pan.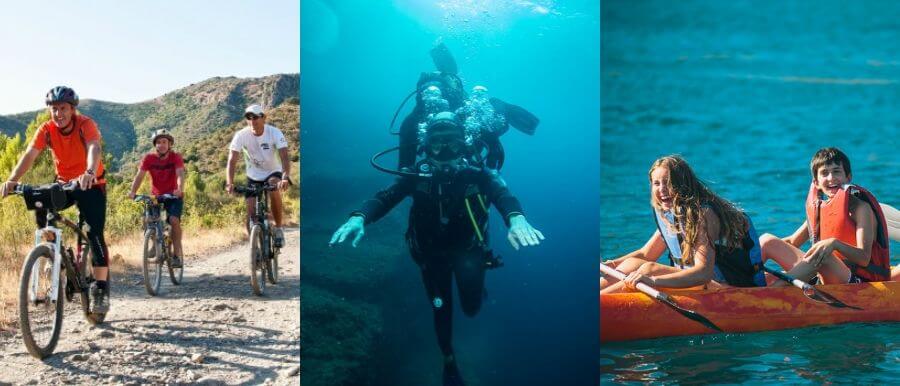 All family will have a great time and childrenEspecially, they won't stop laughing with Montjoi's funny pet, Joi. A very special fox that will make everyone dance.
5. We are a benchmark in scuba diving
Did you know that travelers from all over the world come to Cala Montjoi? The main reason is scuba diving. From our complex you can get to key points for immersion, like the Bay of Roses. We not only offer you the option of renting diving equipment, but you can also participate in courses and even receive your baptism from the beach. Professional instructors will accompany you at all times.
If you needed reasons to visit Cala Montjoi, now you already have five. We are waiting for you to live an incredible vacation together. We are ready, you?