3 tips to find the perfect accommodation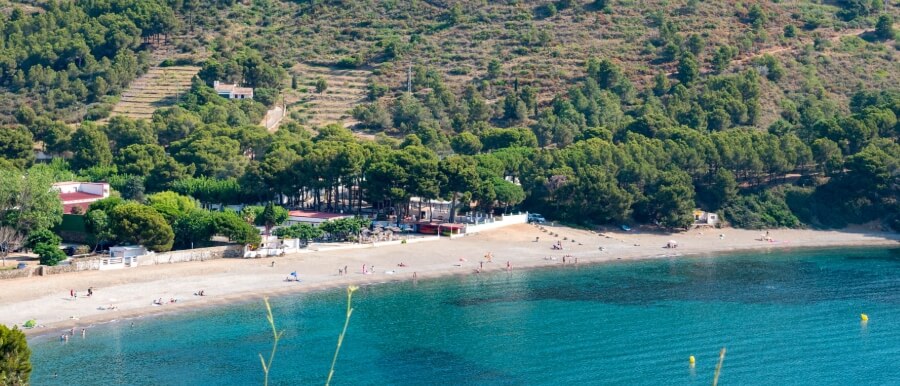 Vacations are here! So, if you still don't have anything reserved, it is logical that the last minute rush to find your dream destination enters. In addition, when it comes to booking vacations, we are all flooded with doubts… where are we going? How many rooms do we reserve? What should we carry in our suitcases?… The important thing is to stay calm and investigate until you find the accommodation that best suits you.
Therefore, in Cala Montjoi, we have gathered some tips to find the best accommodation, without losing hours and hours looking, and enjoy an unforgettable vacation.
Find the perfect accommodation to rest
When you travel to Costa brava the safest thing is that you do not stop for a long time: beach, gastronomy, tourism, relaxation ... There are many options to spend your time, especially in summer. That is why it is important to choose a resort well located that, in addition, is a quiet place that guarantees a complete rest at the end of the day.
Cala Montjoi It is known for its excellent location: it is in the heart of Cap de Creus, in a protected environment where nature is as pure as idyllic. Also, here you can choose bungalows for up to 6 completely renovated people. In them you find what is essential for your holidays: comfortable beds, a terrace, bathroom with shower, excellent views and total calm.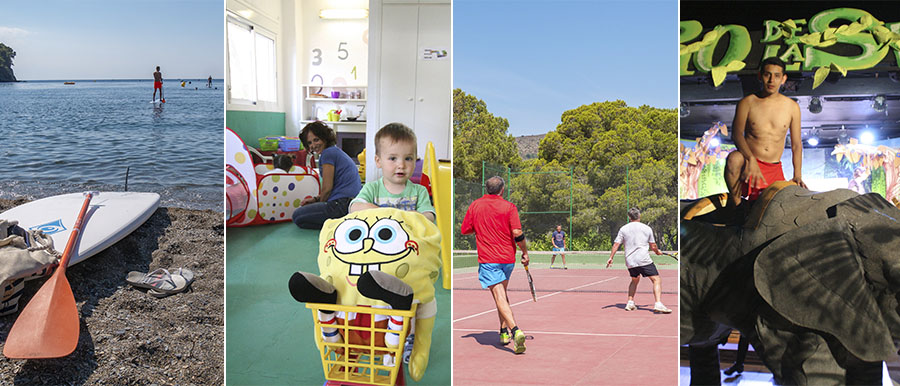 Find out about the services and activities available
The services and activities that you will find in the accommodation make the difference, so pay special attention to what the resort offers to choose that place where your vacation is perfect in every way.
Cala Montjoi It is a unique place, and our resort stands out for all the ideal spaces for the little ones (like the baby bottle, the games room, the children's mini-pool and the park, for example) and for the elderly (massage room, gym y bar-cocktail bar, among others). Here, leisure has a special place thanks to all the cultural offer that we offer: theater, musicals, external shows and jazz sessions on the terrace. Thus, the offer of activities also allows you to make the most of this destination with options such as diving, The hiking trails y Mountain bike.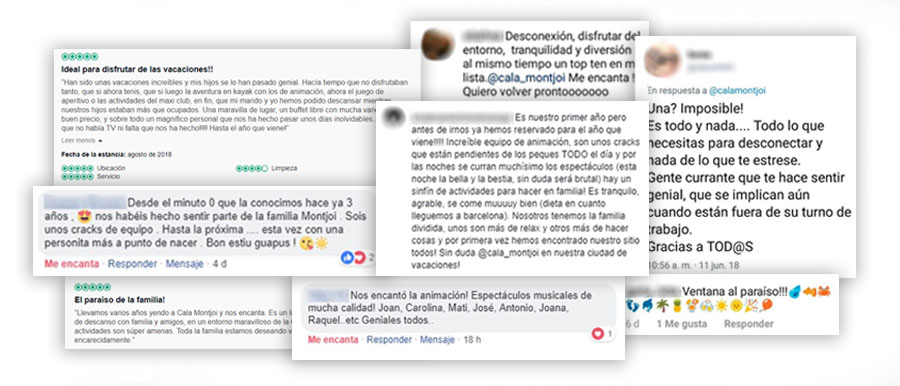 * Real opinions of users on Instagram, Facebook, Twitter and Tripadvisor.
Take into account the prestige of the accommodation and the opinions
The best way to find out about accommodation before you arrive is to learn about it or read opinions from other users. In this way you have the assurance that your trip will be perfect and there will be no unexpected inconveniences.
When you stay in Cala Montjoi accounts with the support of different entities that have granted your certificate of quality both in food, as in activities and tourism. Among these, the certificate of Healthy establishment and of Family tourism.
So, you see, in Cala Montjoi We have everything for you to enjoy some unique days in the Costa Brava. If something stands out of our resort is the variety of options to relax and have fun: diving, bike rides, outdoor games, gym, workshops in the Montjoi Club, restaurant, beach ... there is something for all tastes and ages! And the best thing is that you can find the perfect accommodation so that the whole family feels at home.
We, of course, we have everything ready to receive you.