Sports you can practice in Cala Montjoi Roses and located near the Parc of Cap de Creus
Cala Montjoi Sports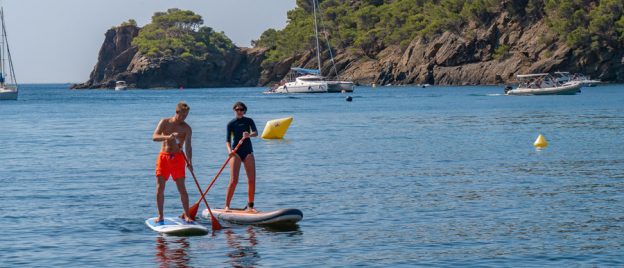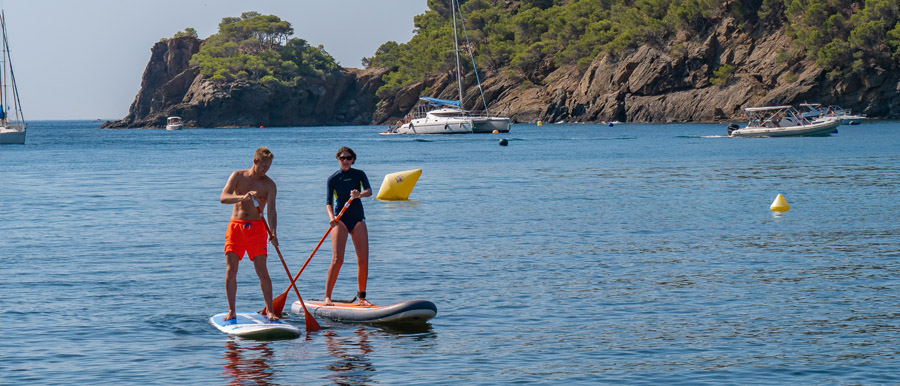 Ducks to water! The best water activities are in Cala Montjoi
Enjoy the wide proposal we offer, fun is guaranteed! A trip to the Costa Brava is only complete when we enjoy the water activities. Therefore, when you stay in Cala Montjoi, we offer you the most fun water sports that will allow you to be part of this privileged environment that surrounds us. [...]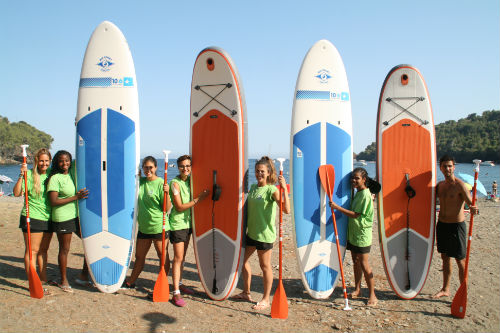 paddle Surf
This year as a novelty, we have one of the most requested activities by our clients, paddle surfing. Take advantage of your holidays in Cala Montjoi to enjoy this wonderful sport.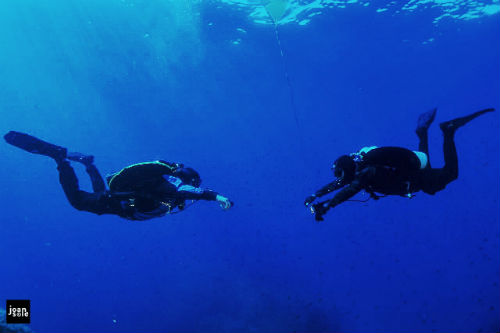 Diving
Undoubtedly, one of the most beautiful places to practice this activity. The natural park of Cap de Creus is a protected area in its marine environment. You will be able to verify the incomparable beauty that this place of the Costa Brava offers. Visit our diving section and discover a fascinating world!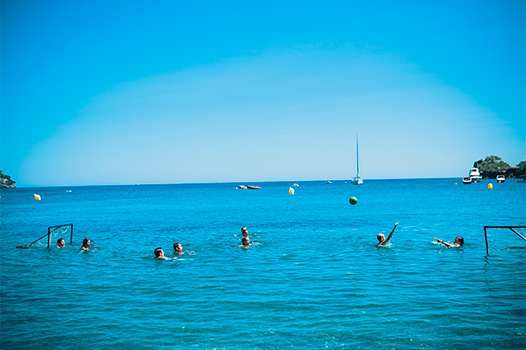 Water polo
Strength, precision, team play are some of the main features that must possess if you want to win in the waterpolo tournament that we present. Enjoy the waterpolo in Cala Montjoi!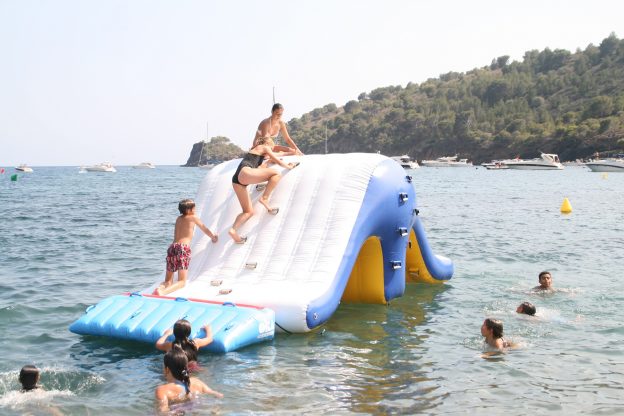 Inflatable Games
The star activity for the youngest, from the mini club to club teenagers enjoy these aquatic games led by an animator you will undergo tests of balance and strength, combined with descents and small jumps from various points of attraction. YOU CAN NOT LOSE THIS!!! FUN AND LAUGHS GUARANTEED!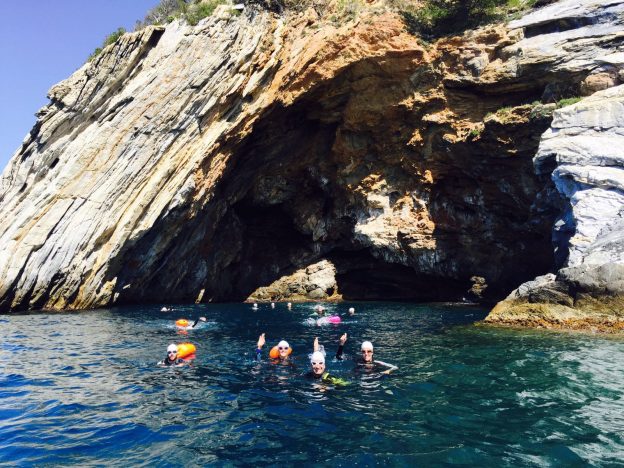 Snorkel
An activity widely practiced in family, for both adults and children can swim on both sides of the coast of Cala Montjoi or the surrounding coves (Murtra cove and creek Calís) discovering the diversity of what hides the seabed. From the diving center, you will rent the necessary equipment [...]

Aquafit
One of the busiest and most fun activities takes place in the sea, very close to the shore and directed by an animator that will make you laugh and exercise all your muscles in a pleasant way and using support materials that will help keep you afloat. Undoubtedly, Cala Montjoi offers diversity of possibilities [...]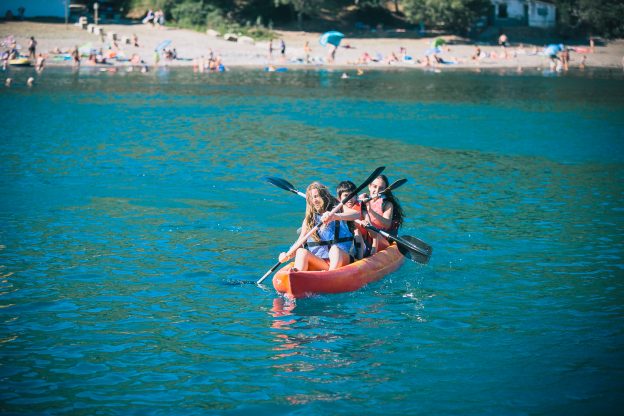 kayaks
Every day (morning and afternoon) we offer our kayaks free of charge to all our clients, for walks in Cala Montjoi. The kayak activity also includes a free weekly excursion led by a monitor specialized in the subject, who will give you all the necessary material (jackets and paddles adapted for adults and children) and [...]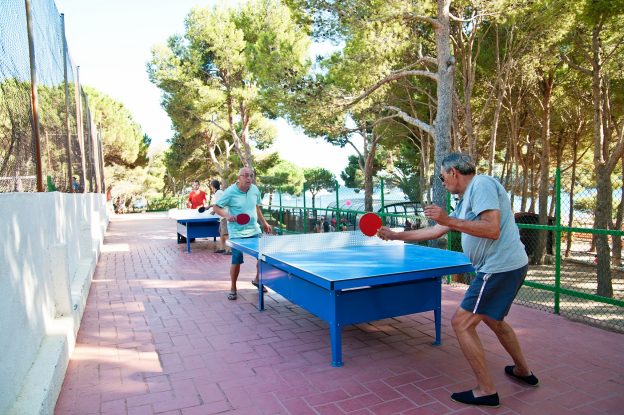 Ping pong
A sport that you can practice on the tables there on the outside or also covered. One of the most practiced and fun activities for both adults and children.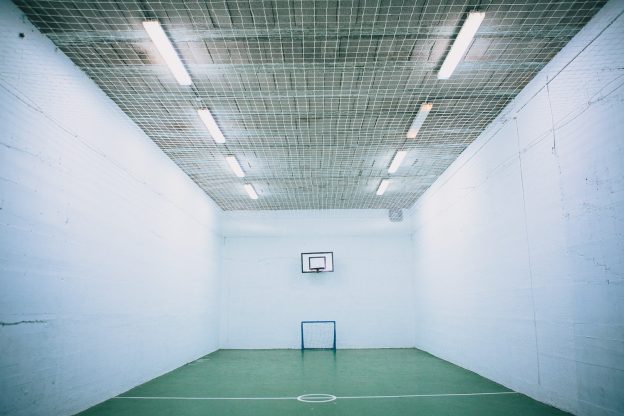 Indoor futbito
Cala Montjoi could not miss a football pitch in which to enjoy one of the most popular sports worldwide. It also offers the possibility to practice basketball. Free access throughout the day.